---
---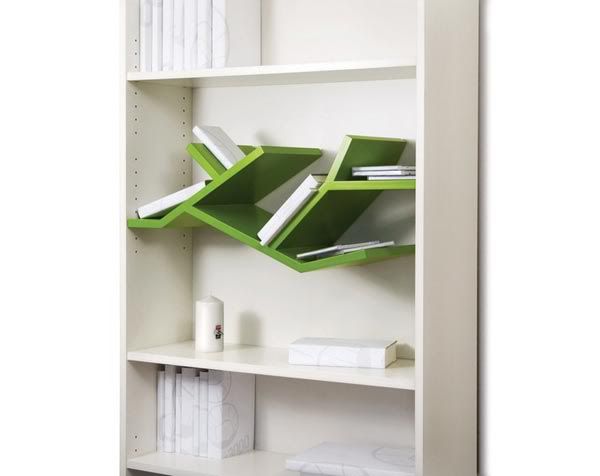 IKEA has sold more than 40 million units Billy Bookcase worldwide since its introduction in 1979- making the Billy bookcase the world's biggest seller when it comes to bookcase.
To make the 30 more years bookcase more interesting and a bit more character,
DING3000
has came up with three add-ons for the ubiquitous bookcase- the "Billy Wilder" for more color or "Billy Heidenreich" for serious reading or even "Stuetze" to give your bookshelve a whole new angle.
BILLY WILDER meets one's primary expectation of a shelf - to put everything in order. It is meant as a playful approach to the subject "our daily mess" and shall serve as an interim storage place for unsorted books, magazines and newspapers. The wildly growing rack makes BILLY "wilder".
BILLY HEIDENREICH is a rack with a lectern. The book shelf is enhanced by exchanging the middle rack with an apparent and convenient add-on element. The lectern is modeled on classic examples. With its shelf-related design and workmanship, however, it is easily integrated into the overall picture.
Books and notepads somehow tend to topple down in the shelves - STÜTZE is the answer to this problem. STÜTZE is a small plate jacking up the BILLY shelf on its sides. Thus, books, binders and even single pages can be stored upright in the shelf, making bookends no longer necessary. STÜTZE fits all variants of BILLY and can be attached to the existing mounting on both sides of the shelf.
+
DING3000

Category: Design, furniture + lighting, furniture and lighting