---
---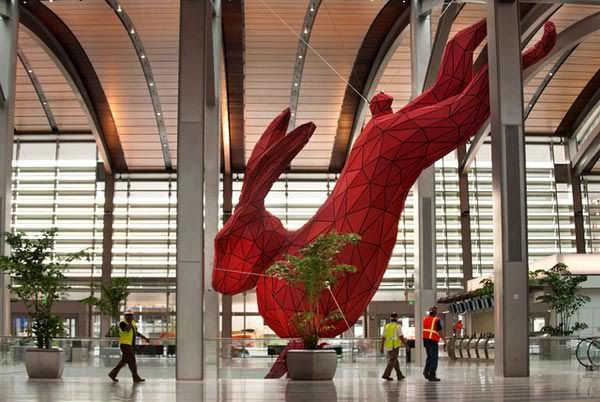 One of the 14 art pieces at Sacramento Airport's newly open Terminal B, the 56-feet-long, 19-feet tall "Leap", a red rabbit made of steel and aluminum by Denver artist Lawrence Argent is an eye-catching public art for everybody in & out of the airport.
To integrate art into the airport architecture and utilizing the unique open/transparent aspect of the airport with the green space to the south, Lawrence Argent will bring the outside in with a sculpture titled, Leap. A rabbit appears to have leapt through the glass from the green space on the south side of the terminal and is diving into a suitcase that appears to have a liquid vortex opening on the top which is situated on the floor of baggage claim.
The rabbit is red to emphasize speed and our inherent desire to get to our "stuff" as quickly as possible. The artist says, "…Loose it, misplace it and disaster can erupt. Possess it, and it fills the gap of distance from home. What is it about our baggage that defines the nature of this emotion of connection with our stuff and who we are?" The rabbit was selected because its symbolism works on many levels. The rabbit is a symbol for cleverness, foolishness, of femininity and androgyny, of cowardice and courage.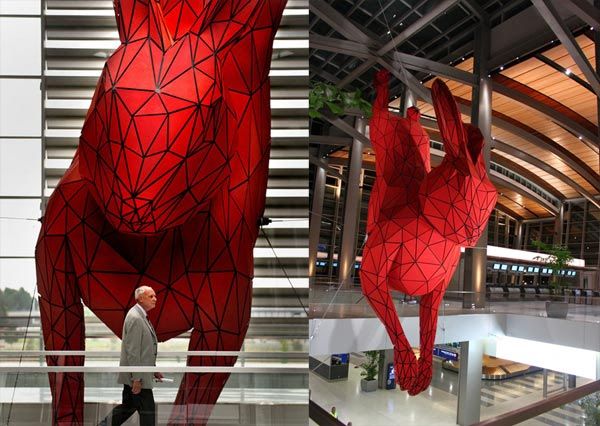 +
sacmetro arts

Category: art + craft, art and craft, art installation, Sacramento Art