---
---
Art has always influenced design and vice versa, and no more so than when we look at our towns and cities. Our offices, and even our homes, replicate the trend of the time, or hark back to iconic eras, often without us realising.
As design concentrates on creating the perfect combination of aesthetics and utility, you can begin to see where great design eras have inspired creative design, and again vice versa, in this collection of design history spotted across Britain.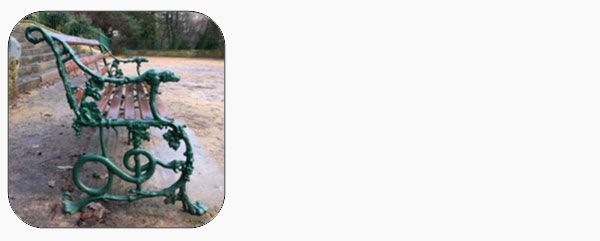 Art Nouveau bench
Avenham Park, Preston, UK
Flickr.com
Let's go back to the beginning of modern design, Art Nouveau. The iconic look of designers such as Charles Mackintosh was a staple feature in British art, recognised with its stylised lines, floral imagery, soft curves and the femme fatale herself. It can even be seen in this wooden bench situated in Preston. The floral curves compliment the wooden seating, creating an earthy feel which is spot on for its green surroundings. Plenty of style gives it a creative feel; giving the park a bit of life, without taking away from the natural beauty surrounding it, which is replicated in the wrought iron recreating aspects of nature.

Art Deco shelter
Weston Shore, Southampton, UK
geograph.org.uk
The futuristic looking shelter, one of several lining the seafront at Weston Shore, screams Art Deco; combining a space-ship feel with smooth curves and sun-ray lines. The 1930 – 1940s design boom was obsessed with the future, hope after the great depression and the machine age. The pod like shape of this shelter perfectly reflects the ideals at the time, giving it a futuristic, space ship feel, with clean, smooth lines to finish it off. The ocean liner look was common throughout Art Deco and looks perfect on the sea front.
Pop Art phone box
North Yorkshire, UK
geograph.org
The iconic British telephone box predates the Pop Art era by a good few decades, however, it's fun, popular and mass produced ideals is perfectly in tune with the Pop Art ethos. The iconic red phone box is most widely recognised, however the designer, Sir Giles Gilbert Scott, was never too keen on the colour, and felt that a softer green would be more suitable in rural Britain. Pop Art, the fun, bold, bright movement celebrating mass production and popular culture is wonderfully twinned with the British phone box – without even knowing it.

Post modern bench
Manchester city centre, UK
Baileystreetscene.co.uk
City centres across the UK are reinventing themselves as centres of cool. Glass fronted, sleek and modern is the current theme in cities across Britain. This bench located in Manchester is a fantastic homage to the city's industrial roots whilst nodding to its vibrant, booming present. The sea grey granite recreates the manufacturing side of the city, whilst the smooth stainless silver is perfect for the redevelopment of this vibrant city centre. The feature of LED under lighting is a quirky touch which ties together utility and aesthetic design.
Bailey Streetscene is a leading street furniture designer with a portfolio of high class design for national organisations. They strive to combine high quality design fit for use and purpose.

Category: Bailey Streetscene, street furniture