---
---
Heather Knight of
elementclaystudio
produces fine, hand made modern porcelain tableware and home decor.
This collection of 3-D textured wall tiles features nine different designs - Noni, Magnolia, Lichen, Hydrangea, Durian, Succulent, Reef, Fungi and Turf. A great accent piece against any background, from vibrant to neutral, these tiles are a great conversation starter. You could paint a square or stripe in a contrasting wall color to really make the tiles POP! Each tile is hand made with Helios Porcelain and left unglazed, highlighting the true beauty of the porcelain.
These tiles have been featured in Interior Design Magazine, May 2008, Issue 6 as well as many other national and international publications.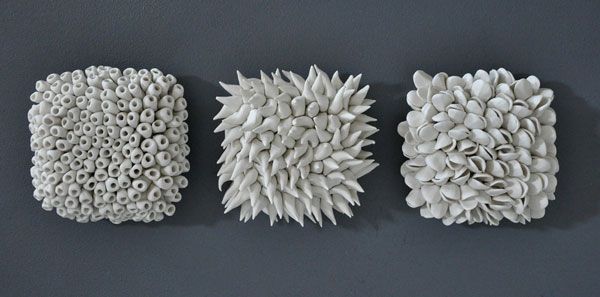 Visit
Heather Etsy shop
for more of her works.

Category: art and craft, Design, etsy, objects