---
---
Thanks to
Matteograssi
for sending us these photos of the Ivan Pictet auditorium with 700 seating units of the Kompass model, designed by EOOS, in black soft leather that they've proudly furnished.
The Maison de la Paix is the fruit of the consolidation of several conceptual ideas and projects that have been discussed in the past 15-20 years. Its central objective is to support and strengthen the relevance of "International Geneva" and to play an active role in helping the city to maintain and expand its longstanding identity and role as an international centre for diplomacy and dialogue in global peace and security affairs.
The state of the art architectural glass structure and premises of the Maison de la Paix, an outstanding glass building conceived in a 6-petal shaped design, located in the heart of the diplomatic quarter of Geneva, are ideally situated to house what is to become a global hub for innovative solutions to contemporary challenges to peace and security. The renowned French group of 16 architects IPAS is the brilliant talent behind such a masterpiece.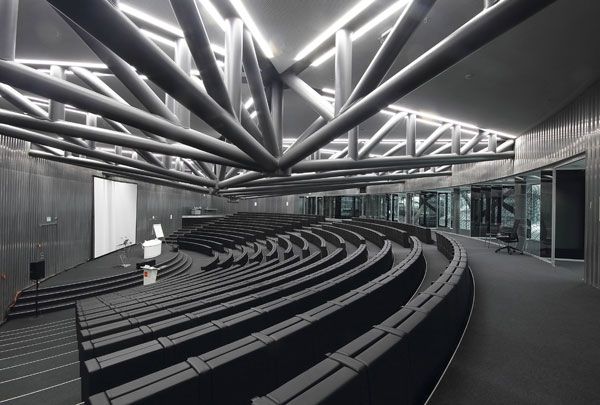 Category: architecture and interior, auditorium design, Design, furniture and lighting, leather furniture, Matteograssi