---
---
The prestigious
A' Design Awards
World Design Rankings from 2010 to 2014 can be view
here
. However, the displayed rankings are based on the current aggregated scores of participants between the years mentioned above. Countries do not individually join the rankings, they are represented by the participating designers indicating their countries or nationalities.
Between year 2010-2014, United States of America won the most awards, 176 numbers in a total score of 636 points followed by Turkey, Hong Kong, Italy, Great Britain, Japan and more than 70 countries to be mentioned. Japan won the most Platinum Award; 12 awards, United States of America 12 Platinum Award, Italy 11 Platinum Awards, Turkey and Hong Kong won 10 Platinum Awards each.
Just to mentioned a few awarded designs from year 2010-2011 until 2014-2015:
1. The Float Real Estate Agency by Kris Lin, China, 2011
The Float started in December 2010 and finished in January 2011 in Nantong ,China with Kris Lin as a Design Director who the not only design architecture but also the interior and landscape in this project. Located in Xiamen downtown, the conditions around the base are unfavorable, surrounded by old apartments, construction site and a school, with no natural landscape around it, Kris Lin created the steel structure 'Float' with its' own landscape, a stack-level pool so the sales center appears floating in the water. The designer cleverly lead visitors across the large acreage of pond, the greens on the ground floor of sales office through the back stairs to reach the sales hall above ground level.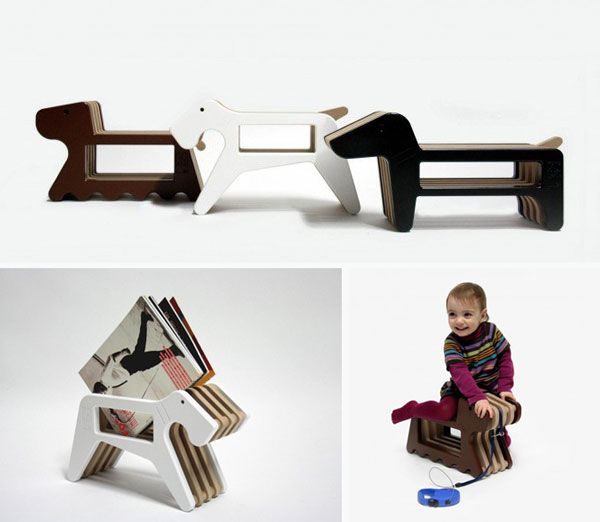 2. Small Dogs by Salvatore Solito, Italy, 2011
Meet the Small Dogs family, DUDU, ETTORE and TOBIA. Salvatore Solito inspiration came from his 3 years old daughter, Giò. Her desire to have a dog were the starting point for the Small Dogs. The "Small Dogs" are not only toys, Dog it's a toy which become a piece of furniture. U can find them everywhere at home, you can find them as footrests, they sometimes became bed-side tables, they sometimes sneak to the bathroom bringing magazines, they guard the door or watch TV… it doesn't hidden itself in the toy box,because otherwise it's a mess, it is not ashamed to be a toy, it is dignified in manners, in colors and materials, it can stay in the living-room, in the kitchen, in the bedroom. Each Small Dog is a 5 pieces toy assembled only by wooden plugs: no screws, no bolts, no metal parts.
3. Artificial Topography Art Installation by Ryumei Fujiki, Japan, 2012
Artificial Topography exhibited from October 1st to November 23rd in Kobe Biennial 2011 in Japan, is A Big Furniture like a cave. This project won the Grand Prize of Art in Container International Competition.
Ryumei Fujiki idea is to hollow out the volume inside a container in order to build amorphous space like a cave which is made of only plastic material. About 1000 sheets of the soft plastic material of 10-mm thickness were cut down in contour line form and were laminated like stratum. 'This is not only art but also big furniture. Because all the portions are soft like a sofa, and person who enter into this space can relax by finding the place suitable for the form of its own body.'
4. Aix Aroma Café by One Plus Partnership Ltd., Hong Kong, China, 2012
'With her possession of water and light, the planet Earth has become the one and only place where life forms grow and live. And the oceans within her are the cradle where life forms like us grow and obtain shelter; it is also the cradle of innovation and imagination for us.'
Located in Shenzhen Bay OCT Harbour Theme Park, the blue and green color scheme in Aix Aroma Café represent the ocean theme while the huge gray egg- shaped cashier and water bar implies the characteristic of coffee bean which seems bitter but tasty. Furniture with various organic appearance present vibrant mood into the interior. The seemingly randomly hanging blue chandeliers resemble shiny ripples absorb cozy sunlight from the sky. Coexistence of beauty and functionalism has been emphasized in the ocean of mind by Ajax Law King Kit and Virginia Lung from One Plus Partnership Ltd..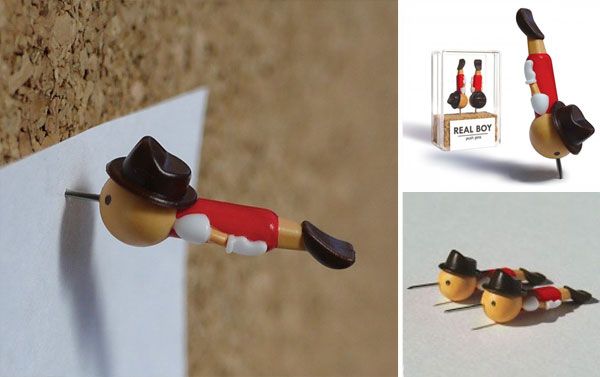 5. Real Boy Push Pins/ Thumb Tacks by Duncan Shotton, Japan, 2013
All Shotton's products are designed to make people smile and be happy. For Real Boy Push Pins/ Thumb Tacks, Duncan Shotton used a witty play on Pinocchio's long nose to create an adorable, yet refined push pin character. Each of the injection-moulded pins are then hand painted to exquisite detail by the designer himself in his recently established Tokyo Studio. They are beautifully packaged, x 1000 limited-edition packs of two has it's own serial number, is sold exclusively online and comes with a signed thank you note.
6. Eva Fruit Tress by Simon Colabufalo, Australia, 2013
Eva Fruit Trees started in April 2010 in Melbourne and finished in August 2011 in Melbourne, and was exhibited in DesignEX in 2012. Made of polished aluminum, Eva's distinctive form pays tribute to where fruit originally came from, is a unique interpretation of a fruit bowl. Eva has special V shaped grooves on its branches, this allows stemmed fruit to be hung.
7. Or2 Photochromic Canopy Structure by Orproject, China, 2013
Constructed for the London Architecture Festival, exhibited at the Italian Cultural Institute, Belgrave Square, London, this unexpected design of photochromic canopy structure is a single surface roof structure which reacts to sunlight. The Or2 polygonal segments of the surface react to ultra-violet light, mapping the position and intensity of solar rays. When in the shade, the segments of Or2 are translucent white. Therefore, when hit by sunlight they become coloured, flooding the space below with different hues of light. During the day Or2 becomes a shading device passively controlling the space below it while during night time, Or2 transforms into an enormous chandelier, disseminating light which has been collected by integrated photovoltaic cells during the day into its surrounding areas.
8. d:note Seating Adjacent to The Grand Piano by Despina Souhlas, United States of America, 2013
Using stained reclaimed walnut wood and ultrasuede, d:note is a seating adjacent to the grand piano which follows the contour of a grand or baby grand piano and includes a side-table to rest a drink while listening to music. 'Individuals seem naturally drawn to the piano and pianist while playing. d:note offers the opportunity for a more intimate seating group near the piano. The sloping separation mimics the curves of the piano and creates two seats. It also makes it possible to incorporate a small side table.'
9. The Monroe Chair by Alexander White, Great Britain, 2012
The Monroe Chair is an armchair by Alexander White inspired by Marilyn Monroe white pleated dress in Billy Wilder's 'Seven year itch' 1955.
'With striking elegance, simplicity in idea, comfortable, designed with sustainability in mind, the Monroe Chair is an attempt to drastically simplify the manufacturing process involved in making an armchair. It exploits the potential of CNC technologies to repeatedly cut out a flat element from MDF, these elements are then splayed around a central axis to shape a complexly curved armchair. The back leg gradually morphs into the backrest and the armrest into the front leg, creating a distinct aesthetic entirely defined by the simplicity of the manufacturing process.'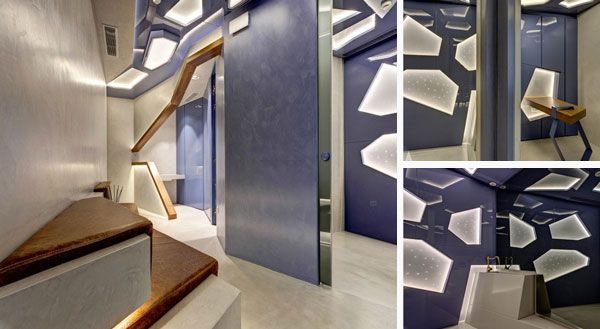 10. Voronoi Clinic by Helen Brasinika, Greece, 2014
This plastic surgery clinic construction was completed Mid May 2014, in Syntagma square Athens. 'The inspiration for this clinic were Voronoi diagrams. A Voronoi diagram is a way of dividing space into a number of regions. A set of points (called seeds sites, or generators) is specified beforehand and for each seed there will be a corresponding region consisting of all points closer to that seed than to any other. The regions are called Voronoi cells, hinting cellular rejuvenation and reconstruction that takes place in plastic surgeries.' It is a new brand in plastic surgery, intended to expand small spaces from 50 to 100 sq meters. The featured project which is the smallest in the range, nevertheless provides ergonomics and aesthetics which is equal to its biggest counterparts. The color and material schemes come as vital to showcase the dynamic aspect of the whole concept. Black and its dynamic nature, added to the dominant clinical white and surgery blue lighting. 'White becomes Grey RAL 7047 while blue is de-saturated in RAL 5014, with an aim to becoming the new clinical classics. Sleek and glossy, interacts with mat and rough finishes, while the reflections of linear lighting multiplies the poly lines of the layout on every axis.'

Category: A' Design Awards, architecture and interior, World Design Rankings