---
---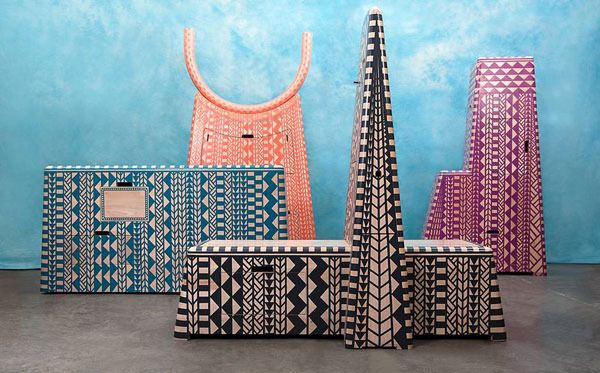 Johannesburg-based
Dokter and Misses'
Kassena Town series of large cabinets is named after the Kassena people of West Africa, the monolithic pieces echo the mud buildings built by its men and hand-painted in striking graphic patterns by its women. The new range of designer cabinets includes pieces titled Home, Watchtower, Horseman and Sleep.
"WE CREATED A VILLAGE OF CABINETS. Imagine it on a hill overlooking the savannah: it is our own dream town with all the complexities of a community. A town always needs a few homes, a place of worship, a liquor store and at least one guy with a fast car who thinks he's king," say Dokter and Misses' Katy Taplin and Adriaan Hugo.
Each cabinet is shaped into solid and earthed forms. These are then hand painted with Kassena-inspired patterning.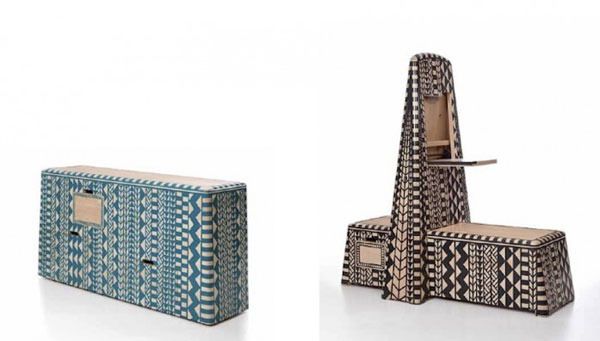 Husband and wife team, Adriaan Hugo and Katy Taplin make up South African design duo Dokter and Misses, based in Johannesburg. Inspired by the idiosyncrasies of their surroundings, their modernist furniture pieces withangular lines have a boldly upbeat energy that makes them immediately accessible and desirable examples of the contemporary South Africa design scene.

Category: Africa Design, Design, furniture and lighting